Classroom View
Can I see a student's incognito window?
Yes, you can still see a student's screen even if they are on Incognito mode. However, we strongly recommend that your school or district disables Incognito Mode on student devices. Contact your school's IT support to configure this for you.
Does Classwize show if a student logs into another device?
Yes, Classwize will show if a student logs onto one or more devices with Connect installed and running. Each additional device will appear as a new tile and will have a blue device type indicator, as shown below: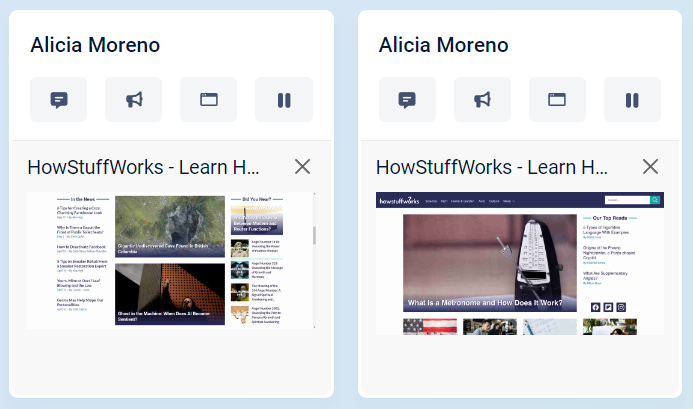 NOTE
Devices without Linewize Connect will not appear as Classwize tiles even if the student has logged in using their school account.
How often do students' screens update when they are on Windows or macOS devices?
Screens update about every ten seconds. Screens also update each time a student opens another link, tab, or window.
Would I ever see an icon other than Chrome or Windows on a student's tile?
It depends on your school's technology environment. Linewize Connect is available on Chrome, Windows, and macOS. The icons that appear on the student tiles show the type of device they use. For example, if your student is on Connect for macOS and is logged on to their macOS device using their school account, you will see the Mac icon (apple) on their student tile.
See:
Why does Classwize still show some students in List View even when I am on Screen View?
Classwize is still catching up and loading student tiles in Screen View. You can wait a few moments for Classwize to load the student tiles, or try to refresh your classroom page. Contact your school's IT administrator if this keeps happening.
See Waiting for Student Activity.
What do the bottom row of icons represent in the student tile?
The icons at the bottom of the student tile are all the tabs that are open on that student's browser.
Select an icon to see the contents of the background tab. To view the list of all background tabs, select the device icon on the left of the tabs. In this example, the device icon is the Chrome icon.
If you think the inactive tabs are not relevant to the class, you can close the tabs, start a Focus session, or add a Block rule for each tab to ensure students stay on-task.
See:
Can two teachers view the same student within two different classes at the same time?
Yes, two teachers can view the same student within two different local or synced classes at the same time. While this is possible, we do not support having students in multiple concurrent classes as any rules created for the student in one class will also apply in the other classes.
If you need to monitor a student's activities while they are in an active class, the best way to do it is by adding the student to a Monitoring class, as Monitoring classes do not allow you to create rules.
See Adding Monitor Only Mode Classroom.
Does Classwize show students' activity if they're using non-Chrome browsers?
It depends on your school's technology environment. Classwize will show students' online activity on non-Chrome browsers when:
the Connect app is installed on their macOS or Windows devices;
students on Connect for Windows or macOS are logged to their devices with their school accounts; and
(for students on macOS) allow Classwize to see their screens. When prompted to allow Classwize to access their screen, the student must select Allow.
Can I see students' browsing activity when they're using a personal device (BYOD)?
You can see students' browsing activity if Connect is installed and active on their device.
See:
Can a teacher log into Classwize using an iPad?
Yes, but you must use the device's default browser (usually, Safari).
See Change the default web browser or email app on your iPhone, iPad, or iPod touch
Why does a student's tile not show their screen even when they are online?
Some reasons Classwize may not show a student's tile include:
You haven't started your class yet.
You've just started the class and Classwize is still connecting to your students.
The student:


is using a personal device that doesn't have Linewize Connect.
is hot-spotting or connecting to the internet using their own internet connection.
isn't connected to the internet.
is using a browser other than Google Chrome on a BYOD device.
has logged out of Captive Portal (if available in your school)
See Waiting for Student Activity for troubleshooting steps. If the issue continues, contact your school's IT support.
Classwize Chat
Do students also need to log in to Google to use Chat?
Yes, students must log in to Google to use Chat. To use Chat, you have to meet the following conditions:
IMPORTANT
Only students using Connect on Chrome can reply to chat messages. Students using Connect on Windows or macOS can only receive chat messages, but not reply to them.
Does Classwize keep a log of the chats between student and teacher?
Yes, all chat sessions are logged, time-stamped, and retained for up to 12 months. To ask for copies of Chat logs, see Requesting Chat Logs.
Class Tools
Can you set Focus just for one student or does it only apply to the whole class?
Focus applies to the whole class.
Will Pause Internet stop access to applications that sync to the cloud?
Yes, pausing the internet will stop applications on student devices from syncing to the cloud. When the internet is "paused", any feature that needs an internet connection will not work. However, features and functions that don't need internet access, like saving documents to the computer, will still work. Cancel Pause Internet at any time to restore the app to full functionality.
See Pause Internet
Can students still use apps when I've blocked them or paused the internet?
Pause Internet and Block Rules work differently if the app is installed on their computer or is on the web. Here's how:
Pause Internet
Block Rules
Desktop app

Students can access the app and use any features that don't need an internet connection.
Features that need internet access, like saving documents in OneDrive, won't work.

Students can access the app and use any features that don't need an internet connection.
Features that need internet access, like saving documents in OneDrive, won't work.

Web app

All open tabs will close, including those from previous classes and the current class.



Open tabs from previous classes will close immediately.
A notification that the tab was blocked by the teacher will appear on the student's screen.
Sites and apps that don't have Block rules will be accessible.
For more information, see How Classwize Rules Work and Pause Internet.
Classwize Rules
Do Block Rules block both desktop and browser versions of apps?
A Block rule will block access to the web version of an app completely, and stop students from using any features of the desktop app that require internet access to work. Here's how it works:
If a teacher adds a Block rule for a web app (for example, Google Docs) that is currently open on a student's tab, that tab will close immediately and the student will receive a message that it has been closed by their teacher, like the one below.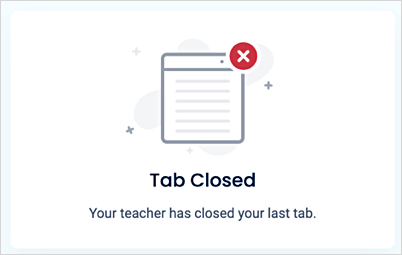 If a student attempts to open a web app that has a Block rule, they will be blocked from opening the page and the "Content Blocked" notification will appear on their browser. The student can select See why it's blocked and ask you for a Bypass Code to access the blocked site.
If a student tries to open a desktop application (for example, Microsoft Word or Excel), they will be able to open the application or use it without an internet connection. However, any feature that requires internet access, like saving the document in OneDrive, will not work.
For more information, see How Classwize Rules Work.
Teachers
What features can teachers use in Classwize?
Teachers can see all available classes in Classwize, including local, synced, and monitoring classes. They can also access all the Class Tools enabled by the IT administrator for the school. See Classwize Feature Availability for Teachers.
Can I assign multiple teachers to a class??
Yes, you can assign multiple teachers to one class. Its class tiles will appear on the teachers' respective My Classes dashboards, and when they open that class, they can:
start, extend, or end the class
manage students in the class
see the student tiles and access Live View
use all the Class Tools that have been enabled for the school by their IT administrator
generate Reports
add Classwize rules
See Classwize Feature Availability for Teachers for more information.
WARNING
The issue with this style of class is that both teachers might not be aware of what each other is doing while the class is in session. So if both are teaching remotely at the same time and one of them is using class tools, this will not show on the other's screen until they refresh the page. If two teachers share a class and teach on different days of the week then this is not an issue.
What is the maximum number of students you can have in a class?
You can have up to 99 students in one class.
What is the maximum number of classes that teachers can create?
There is no limit on the number of classes Teachers can create in Classwize. However, we suggest keeping this number to a manageable level to avoid performance degradation.
Configuration
Why can't I access Classwize?
New Classwize users require a license to access Classroom Management features. If you don't have access to Classwize and its classroom management features, contact your school's IT administrator for assistance.
How is Classwize loaded onto students' devices?
Students do not have access to Classwize. Instead, your school installs Linewize Connect on students' devices. Connect enforces your rules, manages Chat, and provides Classwize with screenshots and information about student activity on the device during school hours. If Connect is not installed–or is inactive–on a student's devices, then they'll appear offline on Classwize and you won't be able to manage their online activities using class tools or Classwize rules.
Can teachers add students to their classroom?
Yes, but only if your school IT administrator has enabled this feature for the school. In addition, you can add students to your classroom if the students are active users in School Manager; and
you are not exempted from creating Classrooms.
See:
Do students need to give permission to be monitored? If so, how?
Only if they use a Mac device. When they attend an active class for the first time on their macOS device, they will receive a prompt asking them to allow Classwize to share or monitor their screens. They must select Allow on the prompt.
Reports
Can I get screenshot history reports if I don't turn on Classwize?
No, screenshot history reports are only gathered when Classwize is running.
How often are screenshots taken?
Classwize takes screenshots every 10 seconds and every time the student opens a new tab, window or link.
Google
Will Google Docs or other apps downloaded to a student's device be seen as tabs within a student tile?
Yes, Google Docs and similar Google applications are browser-based and will display documents, spreadsheets, and presentations as tabs. In Classwize, the tabs will then appear on the student tiles.
IMPORTANT
If you're running a Focus session, ensure that you have the correct Focus settings for Google Docs.
For students using Connect on Mac, ensure that they accept Classwize's request to see their screens.