This article is intended for IT support and classroom administrators.
Monitor-Only Mode Classes (Monitoring Classes) are a special type of local classroom that can be used to monitor students' online activity without interacting with them. Monitor-Only Mode allows schools to give selected Teachers and staff members, like school counsellors, view-only access to student screens as they participate in classes throughout the day.
Monitoring Classes differ from other classes in some important ways:
Monitoring Classes are active and show student activity across the entire school day, even if the students aren't in other classes.
All class tools are disabled, except Modifying Students.
Creating or modifying Classwize Rules is disabled.
Monitoring Classes can have a maximum of 50 students.
Teachers can create as many Monitor-Only classrooms as they can, but we suggest keeping it to a manageable number.
There is no limit to the number of teachers that can be added to a Monitoring Class, but when too many teachers view a class at the same time it may result in performance degradation.
A teacher can start only one monitoring class at a time. They will get an alert when they start a new monitoring session while another is active.
Enabling Monitor-Only Mode Classes
To enable Monitor-Only Mode classes, you need to:
Creating Users in School Manager
Go to Adding and Editing Users in School Manager for instructions on creating local and synced users in School Manager.
Creating a Monitor-Only Mode Group
Go to Adding and Managing Groups for instructions on creating groups in School Manager.
If your school uses an authentication service
If your school uses an authentication service, like LDAP, Google Integrations or Azure AD, or School Information Service, like Wonde or OneRoster, create your Monitor-Only group in the service and then sync your data in School Manager.
Go to our Authentication page for instructions on configuring your service and sync your school's data in School Manager.
Enabling Classwize Features and Adding your Groups
Teachers and other users cannot create Monitoring Classes unless their groups are added to the Monitoring Users list.
Go to CONFIGURATION > CLASSWIZE.

Under the Classrooms section, enable the Allow Creation checkbox.

Under the Features section, select Modify Students in Class from the Features drop-down.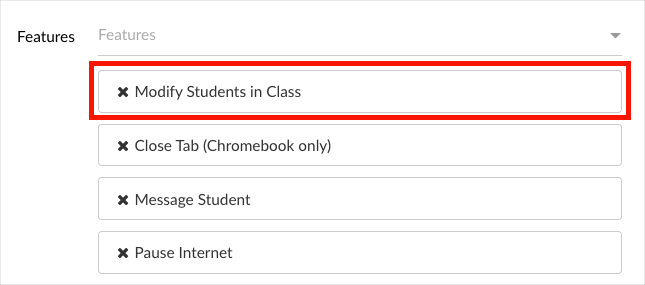 Under the Teacher Requirements section, add your Monitor-Only Mode group from the Monitoring Users drop-down.

(Optional) Add other Teacher groups to your Monitoring Classes.

Save your changes.
Note
You can login as a Teacher in Classwize and create a Monitoring Mode class. You can also invite Monitor-Only users and Teachers with full Classwize access to your Monitoring Class. See Creating Monitor Only Mode Classrooms for more information.