This article is intended for Teachers.
A scheduled session is created before a class by using the Add Schedule feature on the Class Settings. Scheduling a session means that it will automatically start and stop on the same day and at the same time until you change the schedule. For example, if you schedule a session for Monday from 09:00 AM to 10:00 AM, it will run every Monday during that time.
Adding schedules
Select the Class Settings icon on the relevant class tile, then select the Scheduling tab.
Select Add Schedule.
Select or enter the Day, Start Time and End Time for the new schedule. Repeat this step to add more schedules.



NOTE
Day defaults to the current day. Start and End times use the 24-hour format, so a scheduled class running from 1:30 PM to 2:30 PM will appear as 13:30 to 14:30.

Select Save.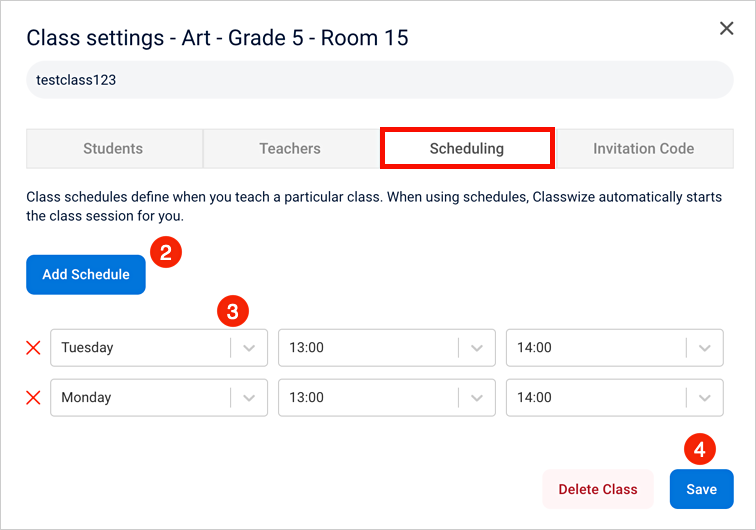 Editing schedules
Editing active scheduled sessions
You can't change or manually end a scheduled class while it is in session. Selecting the Class until button on the class toolbar or the class tile of an active class will show a prompt informing you that the scheduled class can't be edited.

Editing inactive scheduled sessions
You can only edit a scheduled session while the class is inactive or not in session.
On the My Classes page, select the Class Settings icon on the class tile. Alternatively, select the Duration button on the class tile.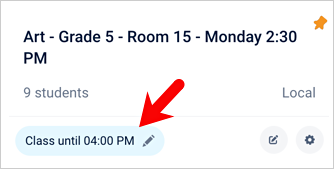 On the Class Settings dialog, select the Scheduling tab.
To edit your next scheduled classes you can:


delete a schedule by selecting its delete icon (

X

), or
select a new Day, or
select a new Start Time, or
select a new End Time.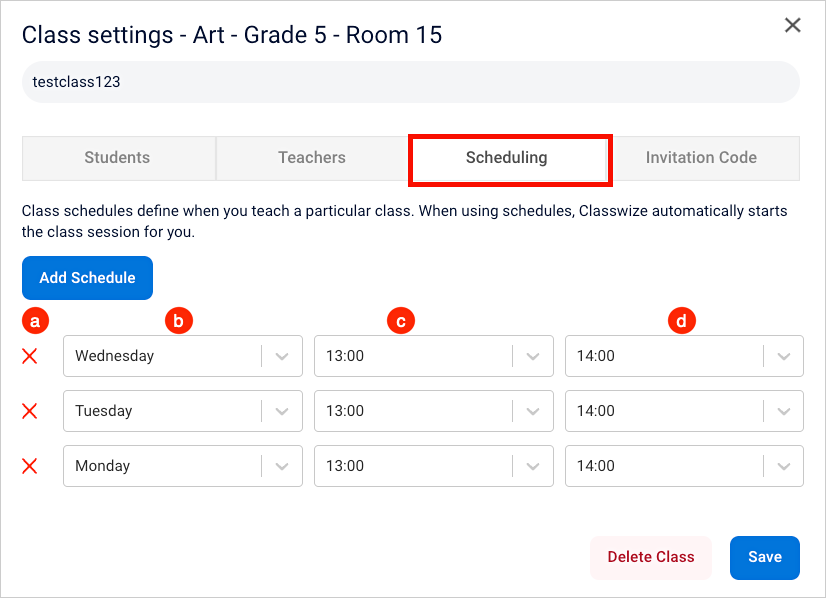 TIP
You can add your schedules in descending order (ex. Wednesday to Monday), ascending order (ex. Monday to Wednesday), or random order (ex. Tuesday, Monday, Wednesday). Regardless of sorting, sessions will start and end on the day and time you selected.
Troubleshooting
I can't edit multiple classes at once
There is no bulk edit feature for multiple classes. However, you can schedule multiple sessions for a single class at once.
I can't edit a schedule once it has started
You can't edit a scheduled session once starts. This is to stop the session from running into other scheduled classes, which could cause students to appear in two classes at once.
I got an "Unable to add schedule due to time restrictions set by your school" error
Your school or school district has set limits on when teachers can schedule classes, usually to make sure classes aren't scheduled outside of school hours. If you keep getting this error, please contact your school's IT support.