Classwize lets you customize your My Classes dashboard by pinning, hiding and unhiding class tiles. You can also rename your classes at any time.
Pinning Classes
Pinning is a way to bookmark classes so that they always appear at the top of your My Classes dashboard. Class tiles are ordered alphanumerically in ascending order, by numbers then letters.. You can pin as many classes as you want.

You can pin classes (1) directly on the class tile, (2) while renaming your class, and (3) when adding a class.
To pin a class...

Do this.

1

From the class tile

Select the Pin icon on the class tile.

2

While renaming class

Select Pin this class while renaming your class.

3

While adding a new class

Select Add Class.
Enter the details of the new class on the Create a new class dialog.
Select Pin this class.
Select Save.
Unpinning classes
To unpin a class, select the Unpin Class icon

on the pinned class tile. The class will move to the OTHER CLASSES panel.
Hiding/unhiding classes
You can declutter your My Classes dashboard by hiding or unhiding unpinned classes. Select the arrow on the OTHER CLASSES panel to hide the classes, then select it again to show them.

Renaming classes
You can rename your classes to make it easier for you to identify and organize them on your My Classes screen. Renaming classes also lets you correct any errors you might have made in naming your classes while creating them.
Select the Rename Class icon on the class tile you want to rename.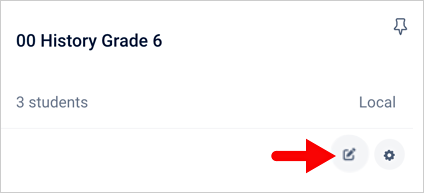 The Rename Class dialog will appear. Enter the new class name on the New class name field.


You can use a combination of up to 50 characters, including capital and small-case letters, numbers, special characters, and spaces.
Use a unique Class Name. To avoid duplication of class names, Classwize will alert you if the new class name already exists.

Select Save.
FAQ
Can I rename all class types, including Synced classes?
Yes, you can rename Local, Synced, and Monitoring classes.
Why does the original class name still appear in Class Settings?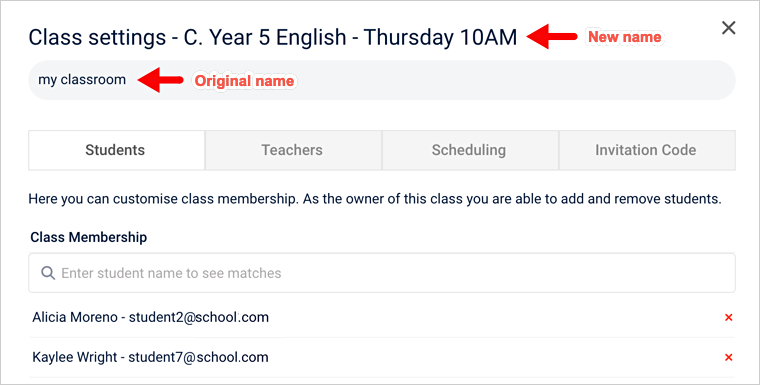 The original or previous class name appears to remind you of the original name of the class for future reference in case you've renamed it several times. It will also help your school's IT support staff if you need them to troubleshoot any issues with your class details.
Will the new class names revert to the old ones if I sync classes?
No, Classwize will retain the new class names even when you've synced your classes with Google Classroom.