List View is a Classwize feature that displays a list of open tabs and active devices on student tiles.
Availability for BYOD users
List View may not be available for students using Windows or macOS devices that don't have Linewize Connect. If students' open tabs or applications don't appear as a list on their tiles, ask your school's IT administrator to deploy Connect to the student's device. Once Connect is installed, ask the student to log in to their device using their school account.
List View on Connect for Chrome
Student tiles will show a list of open tabs on the student's Chrome browser. It will not show open applications.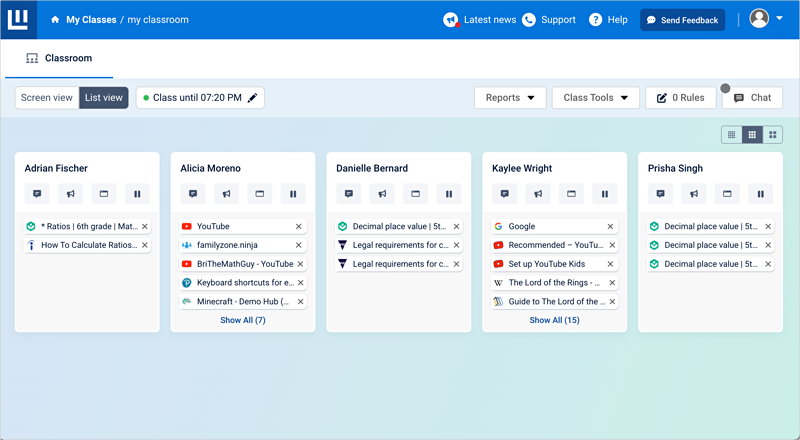 Connect for Chrome: Student tiles show the titles of the tabs open on the student's Chrome browsers.
List View on Connect for Windows or macOS
Student tiles will only show their device names and the names of active windows and applications. It will not show the list of open browser tabs, as Connect for Windows and macOS monitors activities on students' desktops instead of browsers.


Connect for Windows or macOS: Student tiles show the device names, usernames and the title of the active windows.
Showing student tiles in List view
NOTE
Your class has to be in session to view your students' activity in List view.
Start your class manually or wait for the class to start automatically if it's scheduled. The class will start in Screen view by default.
Select List view on the View selector on the top-left the Classroom page.
The page will switch from Screen view to List view, and the student tiles will show open tabs or devices as a list.
Viewing students' open tabs (Chrome only)
The student's currently active tab appears at the top of the list. When a student opens or views another tab on their browser, this tab will become the first item on their student tile and the inactive tabs will appear below the active tab in alphabetical order.
You can view a student's tab by selecting its title on the student tile. The selected title will open in Live
View where you can choose to:
See Using Live View for more information on how Live View works and Closing Tabs for options on closing tabs.
Showing hidden tabs from List view (Chrome only)
Student tiles display a list of open tabs depending on your Classroom layout or screen resolution. If the student has more open tabs on their browser, Show All will appear at the bottom of their tile. Selecting Show All will display the Open Tabs dialog where you can:
View the list of all open tabs on the student's browser
Create a Rule for a tab or site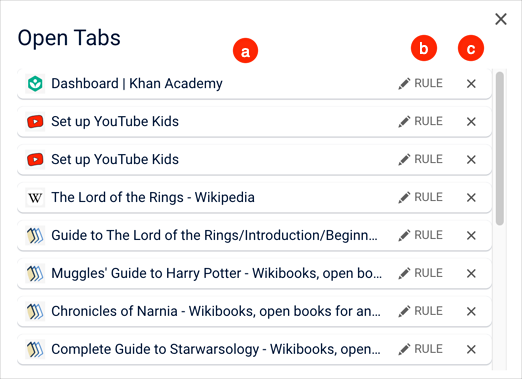 TIP
You can also view the complete list of tabs open on the student's Chrome browser by selecting the Chrome icon at the bottom of their student tile if you're on Screen view.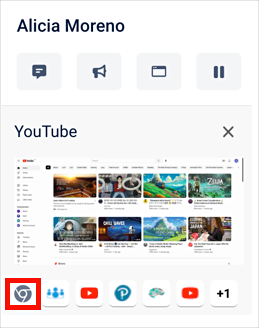 FAQ
Why don't some student tiles show activities in List view?
Linewize Connect must be installed on student's devices for you to see their activity. If your students use unmanaged personal devices in class, their student tiles will not show their activities in List view unless Connect for Windows or macOS is also installed on their devices. Contact your school's IT support for help with deploying Linewize Connect to student's BYODs.
Why do student tiles only show a list of three open tabs?
You may have chosen the smallest Classroom layout, which limits the details displayed on student tiles. Select another Classroom layout on the Layout selector to resize student tiles and display more list items.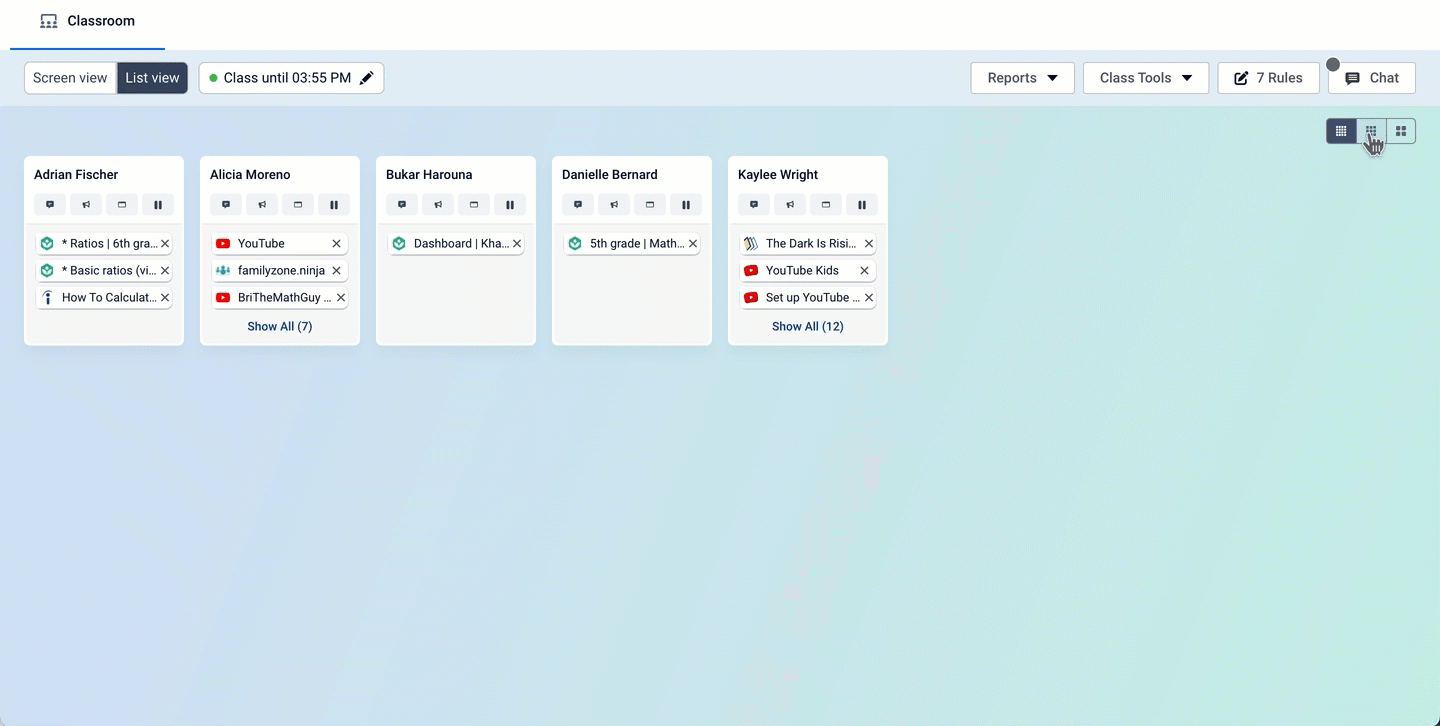 Can I close desktop applications from List View?
You cannot close desktop apps directly from List View. However, you can close Windows applications and signatures by adding Blocked rules. Classwize will block an application's Web and desktop versions (Windows only) or prevent students from opening native apps, (for example, Notepad, Calculator, or Windows Media Player) while your class is in session.