This article is intended for
teachers
.
Unscheduled classes are Classwize sessions that you manually start, end or extend. They differ from scheduled classes in that scheduled class sessions will start and end at times you have previously set.
Starting a class
Open the class you want to start from the My Classes dashboard.
On the class toolbar, select Start Class.
On the Start Classwize Session dialog, select when you want the class to end from the drop-down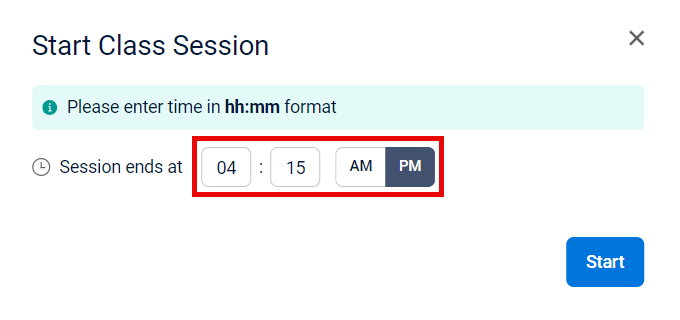 Select Start.
The session will start immediately and the Class until button will appear on the toolbar.

TIP
If you have to manually start a class on the same day and time for multiple days, consider scheduling a recurring session. See Scheduling Classes for information on how to add and manage scheduled classes.
Ending an unscheduled class
You can manually end an unscheduled class even if it has already started. To end a local class early:
Select the Class until button on the class toolbar.
On the Edit Classwize session dialog, select End Now.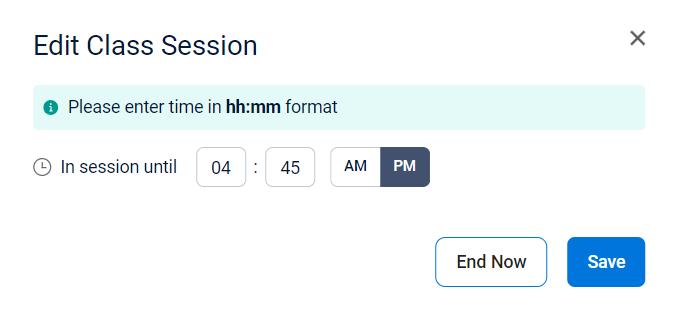 The session will immediately end and you will be taken back to your My Classes dashboard. If the class has an upcoming scheduled session, that session will start automatically. See Scheduling Classes for more information on how scheduled sessions work.
Changing the unscheduled class's duration
You can change the duration of an unscheduled session even when it has started.
Select the Class until button on the class toolbar.
The Edit Classwize Session dialog will appear. Select the new time on the In session until: drop-down. You can select an earlier or a later time.
Select Save. The session will now end on the new time.
FAQ
Can I start or extend a session outside school hours?
You can only start, extend, or end a session within the hours set by your school or district. For example, if your school has set the hours from 08:00 to 16:00 as school time, then you can only start, schedule, or extend a class within these hours.
The hours when you can start or extend sessions are configured by your school's IT administrator in School Manager. Speak to your school's IT administrator if you need to run sessions outside normal school hours.
Do the class rules I created for my scheduled class also apply when I start an unscheduled class?
Yes, the class rules you've created apply each time the class is in session, whether it's scheduled or unscheduled.