About the Student Journey Report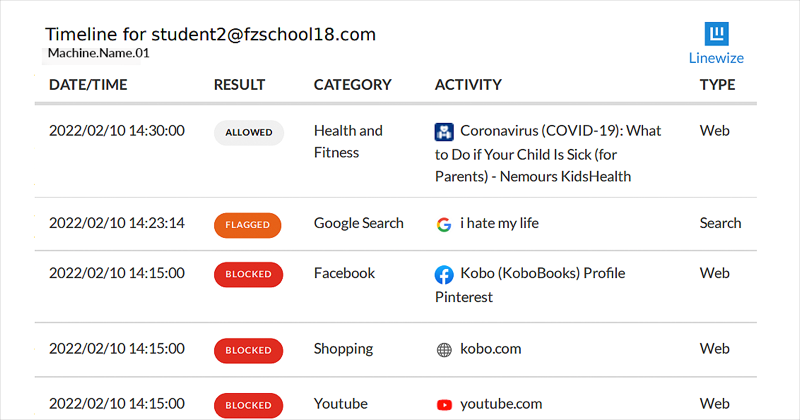 The Student Journey Report is a comprehensive report about a student's online activities during school time. It provides details about a selected student's internet activities, including:
Date/Time
The date and time stamps on a student's online activities, up to the last 30 days. The report presents data from the newest to oldest by default.
Result
If access to a site, application, search, or video content was:


Blocked - websites, applications, videos, and other content that the student was blocked from accessing
Flagged - websites, applications, searches, videos and other content that trigger red flags (for example: violent content, gambling, self-harm)
Allowed - websites, applications, searches, and videos that are that the student was allowed to access

Category
The category of applications and websites that the student opened or visited. Categories form the basis for allowing or blocking traffic from certain sites, searches, and videos.
Activity

The website or application that the user has visited, the YouTube videos that they watched, and the searches they completed in Google.

Browsing activities done using devices with the Linewize Connect Chrome extension are identified by web page titles. It also shows the search expressions or keywords used by the student to find information or videos (Google and YouTube).

Type

The type of activity done by the student:

Web - browsing a website or application, including watching videos or searching for information
Video - watching or streaming Youtube videos
Search - searching in Google
Before you start
Your school's IT administrator needs to complete the following setups before you can create Student Journey Reports in Classwize.
Enable Student Journey Report in School Manager

The Student Journey Report is an optional feature and must be enabled in School Manager to work in Classwize. Check with your school or district's IT administrator if this feature is enabled for your school.


Select the Teachers who can create Student Journey Reports

Only authorized teachers can generate Student Journey Reports. You may need to ask for permission from your school or district to access this feature, or contact your IT department for help.
Generating the Student Journey Report
NOTE
You can only create reports for your students. If a student is not in your class, then you can't create their Student Journey Report.
Open a class in Classwize.
Select REPORTS > STUDENT JOURNEY on the Class toolbar.
On the Export Student Journey Report dialog that appears:


Select or enter the student's name.
Select the time period covered by the report.
NOTE: Longer periods may take longer to generate.
Select YES or NO if you want to include the student's last hour of activity.
NOTE: It may take up to an hour to generate data from the last hour. Selecting "Last Month" or "Yesterday" in the date picker will not include the last hour of activity.
Enter an optional Cover Page comment.

Select EXPORT. You will receive a confirmation message that the report will be emailed to you.
See: Student Journey Report FAQ for more information on how Student Journey Reports work.